100

By Taiyō Matsumoto, 松本大洋
Published by Shogakukan (1995)
92 pages
¥2500
ISBN: 409199721X
Amazon.co.jp
Everybody's favorite Taiyō Matsumoto published a book in 1995 collecting a bunch of miscellaneous illustrations and short comics he did for various clients outside of his main bibliography. This book contains a mix between silent comics, color and monochrome illustrations from 1992 - '95, so everything in here is from the same period as Blue Spring and Tekkon. His style is still rough and wonderful (the things I've seen from Takemitsu Zamurai is a bit boring compared to the wild lines in Blue Spring).
There are eight short wordless color comics in here that have never been collected in another book. All but one are heartwarming stories revolving around a kid and loops, in one story the kid throws a bone for his pet hippo to fetch and we get to follow the hippo's chase all around the world until the bone hits the kid in the back of his head. The stories are between four and seven pages long. And then we have all of the crispy crunchy artwork to go. There are about twice as many color illustrations as there are monochrome illustrations, something I find a bit disappointing. I think his color work is a bit hit-or-miss but his strong and consistent ink work usually make up for any mistakes done while coloring. The illustrations aren't necessarily bad, just not as always awesome as you'd expect from the man who did Tekkon. Most of the time they are though.
This hardcover book is really something special if you are a Matsumoto junkie like me, most of what's in the book can not be found elsewhere. The book is big, the illustrations have a lot of white to breathe on and the paper quality is thick and pleasing for both the eye and touch. Buy the book if you get the opportunity to do so, especially if you are dying for a Matsumoto fix and can't hold on until GoGo Monster is upon us.
Illustrations for PFF Award posters, 1995
Detail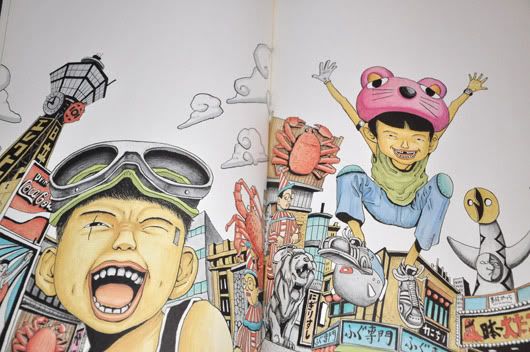 You know these guys already
The book contains several wordless short comics, though this one contains onomatopoeia
Illustration from ZERO I guess
I think this picture shows Matsumoto's influences more than any other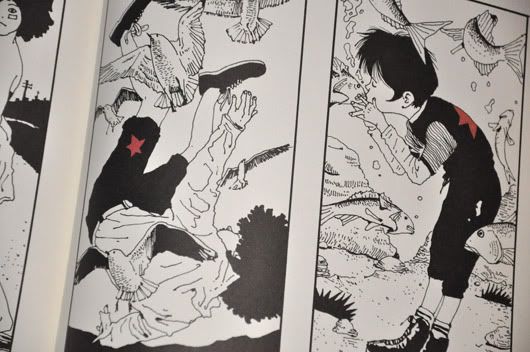 The B&W illustrations are the best in the book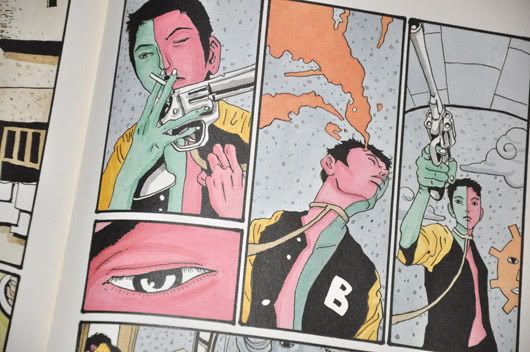 More short comics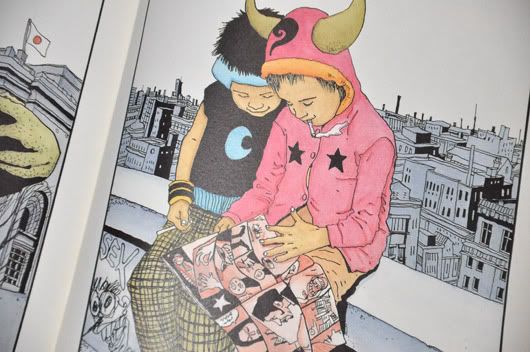 This is probably from Brothers of Japan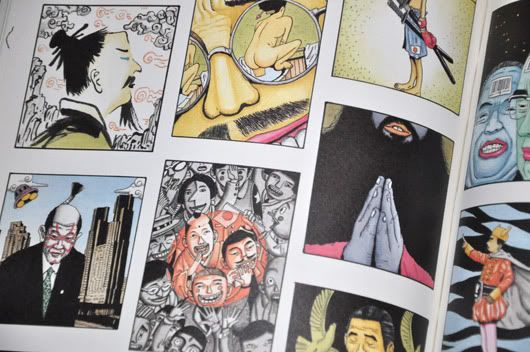 The book is, oddly enough, available from amazon.co.jp at the moment. It is odd because the book has been out of print for years. So it is either a re-print or they found a few boxes of it lying around in a warehouse. Also, eBay.